Enjoy a restaurant-quality taco feast made right in the comfort of your own home. These sensational, EVOO-fried, shrimp are tossed in a sweet chili sauce and mayonnaise combination adding layers of flavor.
---
Enjoy this delicious shrimp and sun-dried tomato saute with grilled bread as tapas with extra virgin olive oil for an awesome meal!
---
Grilled oysters make for an awesome appetizer, pair
the oysters with our chef choice of extra virgin olive oil. Perfect combination with seafood.
---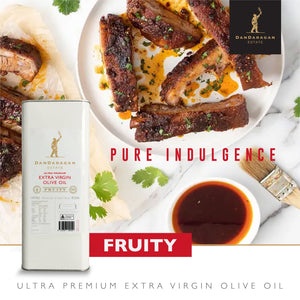 Dandaragan Estate Fruity features a luscious oil full of fruity aromas and flavours that offers an intense-lifted olive aromas with ripe tomato, apple and spicy notes. Using olive oil as the liquid component for wet rubs aids in that infusion of flavor and also helps glaze and sear the ribs. The flavours are well balanced by a medium level of bitterness and pepper.
---
Extra virgin olive oil (EVOO) pairs extremely well with most of the core ingredients found in Sichuan cooking. This recipe contains two classic components that come together for one marvellous meal or appetizer. The scallion pancakes are a crispy, flaky, and savoury creation, easily recreated at home. The fragrant, chilli-infused olive oil is perfect for a spicy dip or drizzle over the pancakes.