By Andy Baraghani photo credits : bonappetit.com Olive Oil Galette With Spicy Greens 4 SERVINGS DOUGH Ingredients: 1½ cups (188 g) all-purpose flour 1 tsp. sugar ¾ tsp. kosher salt ⅓ cup full-fat plain yogurt (not Greek) 3 Tbsp. extra-virgin olive oil Method: DOUGH 1. Whisk flour, sugar, and salt in a large bowl to combine. Whisk together yogurt and oil in a small bowl (it won't be perfectly smooth). Make a well in center of dry ingredients and scrape in yogurt mixture. Using a fork, gradually incorporate dry ingredients into yogurt mixture, then use your hands to work together until a shaggy dough forms...
---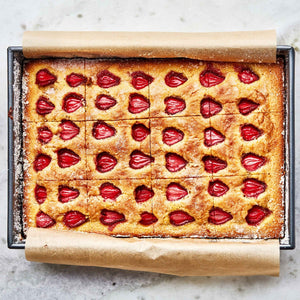 By Sarah Jampel photo credits : bonappetit.com Strawberry Snacking Cake Make 1 13 X 9" cake Ingredients: 8 oz. strawberries, hulled, thinly sliced lengthwise 1 cup plus 3 Tbsp. sugar, divided, plus more for pan Kosher salt ¾ cup extra-virgin olive oil, plus more for pan 1½ cups (180 g) all-purpose flour ½ cup (60 g) fine-grind cornmeal ½ tsp. baking powder ½ tsp. baking soda 3 large eggs 2 large egg yolks ½ cup plus 2 Tbsp. sour cream  Finely grated zest of 2 lemons 3 Tbsp. fresh lemon juice 2 tsp. vanilla extract ½ cup strawberry jam  Method: 1. Preheat oven to 350°. Gently toss strawberries, 1 Tbsp. sugar, and a pinch...
---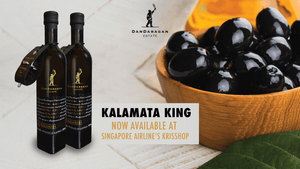 Dandaragan Estate's 500ml Kalamata King extra virgin olive oil is now available at Krisshop, the inflight store of Singapore's flag carrier airline.
---
 By Chloe Warren When it comes to "fats" it can be difficult to pick apart fact from fiction. Coconut oil promotes weight loss (unlikely). Butter protects against cancer (not exactly). Eating fats makes you fat (oh, dear). For decades we were warned off all fats, but now it's clear that some of them are an essential component in a healthy diet. Fats, oils and how much you need We all need a certain amount of fat in our diet. It gives us energy, stops us from feeling hungry, keeps us warm and our organs safe, and our bodies use fatty...
---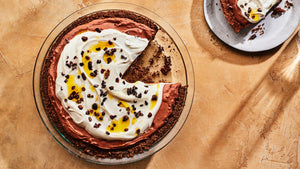 By Chris Morocco photo credits : bonappetit.com    Frozen Greek Yogurt Blackout Pie Serves: 8 - 10   Ingredients Crust 1 sleeve graham crackers (9 standard-size ones) 1/4 cup old-fashioned oats 2 tablespoons Dutch-process cocoa powder 2 tablespoons light brown sugar 6 tablespoons unsalted butter, melted 1 teaspoon Kosher salt Filling & assembly 3/4 cup bittersweet chocolate, coarsely chopped 1/2 cup extra-virgin olive oil, plus more for drizzling 2¼ cups whole-milk Greek yogurt, divided 1/2 teaspoon Kosher salt, plus more 3 large egg whites 1/2 cup & 1 tablespoon light brown sugar, divided Cocoa nibs (for serving; optional)    Method - Crust...