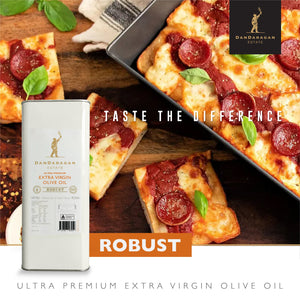 Detroit-style pizzas are so en vogue. These rectangular wonders have a focaccia-like thick crust that's topped with hunks of cheese and runners of tomato sauce. We mimic those flavors with a blend of mozzarella, muenster, and jack. A robust olive oil offers bold flavor, balanced bitterness, and a prominent peppery finish, perfect for pizza.
---
By CHRISTIAN REYNOSO photo credits : bonappetit.com Potato-Tomato Gratin With Horseradish4–6 servings Ingredients:4 Tbsp. extra-virgin olive oil, divided; plus more for serving (optional)1 large onion, thinly sliced4 garlic cloves, thinly sliced2½ tsp. Diamond Crystal or 1¼ tsp. Morton kosher salt, divided3 Tbsp. drained prepared horseradish1 Tbsp. double-concentrated tomato paste½ tsp. crushed red pepper flakes or 1 tsp. freshly ground black pepper2 Tbsp. thyme leaves, divided1 cup low-sodium vegetable or chicken broth or 1 tsp. Better Than Bouillon reconstituted in 1 cup water1½ lb. Yukon Gold potatoes (about 4 medium), scrubbed, sliced into ¼"-thick rounds1½ lb. plum tomatoes (7–8), ends trimmed,...
---
Cooking with Extra Virgin Olive Oil Extra virgin olive oil is a flavorful and healthy alternative to other types of cooking fats. Discover The best olive oils for cooking below.Extra virgin olive oil (EVOO, for short) should be an essential ingredient in every cook's kitchen.Whether baking, sauteéing, grilling, dressing or making soups and stews, adding EVOO to the mix enhances the flavor of the food and endows it with health benefits the vast majority of other cooking oils simply can't provide.Below, we've detailed a few of the ways in which to best use extra virgin olive oil in your cooking...
---
Use Extra Virgin Olive Oil for Healthy and Delicious BakingExtra virgin olive oil can add new flavors and characteristics to all kinds of baked goods while decreasing the consumption of unhealthy fats.The health benefits and unique flavors of extra virgin olive oil have made inroads in the baking world in the last decades.The first step is to choose the olive oil best suited for your baking experience, a choice that will significantly impact on the final result.- Antonio Campeggio, pastry chef. Now, renowned pastry chefs are using extra virgin olive oil in new and innovative ways, while researchers work to...
---
BY DEVONN FRANCIS  photo credits : bonappetit.com Torch Banana Cake 8–10 servings Ingredients: 4 Tbsp. unsalted butter, cut into pieces, plus more for pan ¼ cup (packed; 50 g) light brown sugar 1 tsp. Diamond Crystal or ¾ tsp. Morton kosher salt, divided 3–4 ripe bananas, halved lengthwise 1½ cups plus 1 Tbsp. (195 g) all-purpose flour ⅓ cup (35 g) almond meal 1½ tsp. baking powder 1 large egg 1 large egg yolk 1 cup unsweetened coconut milk ½ cup extra-virgin olive oil 2 tsp. vanilla extract 1¼ cups (250 g) granulated sugar, divided Flaky sea salt SPECIAL EQUIPMENT A 9"-diameter springform pan; a kitchen torch Preparation: Step 1: Place a rack in middle of oven; preheat...